What's new in 6.8.8 – 08/10/2019? 
Grid 2019 support !
What's new in 6.8.7 – 06/10/2019?
ShakeIt

New algorythm for "wheel lock" being focused on lock exclusively instead of "high wheel slip", this new algorythm is available for most modern games (except Iracing giving insufficient data). Warning : most of the time lock won't occur when using medium to high assists, games will prevent it.
Changed "mono" settings  to avoid confusions about both channels being the same, there is now only one test button, and one volume slider

New volume configuration setting for Bass shaker. You can choose between windows volume configuration or generated sound volume

Fix for "gain modulation" being uneffective on "pulse like" effects
Made wheel slip effect a bit less sensible
New "delay" effect for bass shakers
Fixed some crash when receiving some very specific data from games

RF2 Spectator mode, the spectator mode is now an option of the game instead of a separate game entry.
RF2 : pause detection in order to suspend shakeit effects
New UI scaling setting  :

New "startup tab/startup plugin setting"

It's now possible to disable DashStudio like any other plugins
Added DR 2.0 oculus version to automatic setup
Fixed AC japanese detection (once again, sorry for the struggle :D)
Prevented UDP relay "loop" occuring with bad settings.
Fixed "USBD480 enabled" setting not totally disabling the screen when unchecked
New command line interface : https://github.com/SHWotever/SimHub/wiki/Command-line-interface
New option to control Precision Sim Engineering USBD480 RGB led back-plate.

What's new in 6.8.6 – 16/09/2019 ?
ACC

Updated ACC telemetry definitions for 1.0.8
Completed ACC online (maps and delta … are finally here) 
Automatic Game configuration has been added for DR 2.0 VR specific config files

A few additional optimizations
What's new in 6.8.5 – 15/09/2019  ?
Removed the two "generic entries" : "other codemasters" and "Other F1 Games series" which have been triggering my OCD for too long 😀 , they have been replaced by a proper game entry for F12012, F12013, F12014, F12015, Grid 2, Grid AutoSport with proper automatic game configuration, the following games were not added for the following reasons :

F1 2010 and F1 2011 : due to GFWL issues on modern systems (W10) preventing legit copies to work.
Race Driver Grid aka Grid 1 : Incomplete telemetry (missing RPMS), telemetry wasn't a thing yet back in the days 😀

Reworked the game entries with more homogeneous naming and they are now presorted in alphabetical order (warning : this will reset your current games ordering)
Fixed Iracing ShakeIt suspension Feedback not working for some specific cars.
Fixed nextion uploader not working on "basic" nextion screen models.
Fixed nextion editor generating structure files wrongly named as .hmstructv2 insted of .hmistruct
Fixed AC japanese exe name (acs_dmm.exe) for automatic running game recognition.
Fixed ShakeIt effects being processed even when disabled.
What's new in 6.8.4 – 09/09/2019?
Fixed ACC not working online, sadly the game telemetry is still incomplete in this use-case and (delta, map, radar….) won't work.
Added ACC japanese exe name (acs_dmm.exe) to automatic running game recognition.
What's new in 6.8.3 – 07/09/2019 ?
ACC : Final telemetry specs have been released, so here it comes : Full ACC support rework + leaderboard addition (using broadcast API from the game)

Added basic Support for furidashi drift cyber sport : 
Reworked game configuration experience:

Automatic configuration status is now made obvious :

Configured / Not configured / Game not detected

UDP Games requirements are explained better
Iracing start action is now preconfigured on WEB ui and you can choose beta UI
PCARS1/2 offers choice for VR/non VR versions in settings

Fixed RF2 mapping for the latest plugin
Fixed some Iracing disconnects on non UTf-8 systems
Upgraded nextion editor and nextion uploader for 0.58 itead release (Finally supporting AA fonts !)
ShakeIt

Changed ACC wheel vibration algorythm
Ability to "reduce channels" for corners/left right effects (in order to match better 1 or 2 shakers setups better)
Exporting properties for effects output is now possible
It's now possible to save general gain in the effect profile (see profile properties to enable it)
Fixed an issue where wheel slip effect would be triggered in pits (RRRE)
A small preview of final output is now available on ShakeIt motors output
Assetto Corsa competizione

Fixed a "timeout loop" on arduino
Added a plugin for aida64 data
Workaround for F12019 not giving opponents name online (It will show team name instead of player id
Fixed a ETS2-ATS not showing gear as engaged until moving
Translation is now open to end user without compilation (see the "langages" folder)
It's now possible to alphabetically sort game list :
Fixed a very rare case were lap record curruption would trigger an error loop
Dash studio :

It's now possible to save restore the current dash oppened at exit/restart

New version notification is back !
Many small other fixes around
What's new in 6.8.2 – 10/07/2019 ?
Hot-fixes
Fixed a memory leak in the new ShakeIt engine which would lead to OutOfMemory exceptions after a few hours (or less when having a lot of effects
Fixed F12019 RemainingFuelLaps (bad interpretation of the data coming from the game), (you have to use the data [DataCorePlugin.Computed.Fuel_RemainingLaps], raw data coming from the game is left untouched )
Fixed dashstudio web text alignment when warping was enabled
Fixed iracing sessiontypename (was giving the whole session type, while it's giving now the current phase name)
Disabled Dirt Rally (1/2) fuel level emulation causing issues with fuel level alert
6.8.1 – 28/06/2019
Post-release Hot-fixes
Fixed dash export generating empty files
Fixed session best lap time not reported correctly
Added a protection over iRacing feedback data to avoid error loops when the data is missing (ShakeIt)
6.8.0 – 26/06/2019
F1 2019 support
It's time for F12019 ! This version adds official support for the new codies title :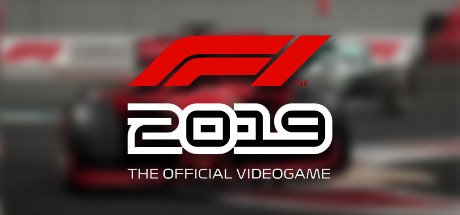 KartCraft support
The game is still in early access, but a few laps on a kart never hurts !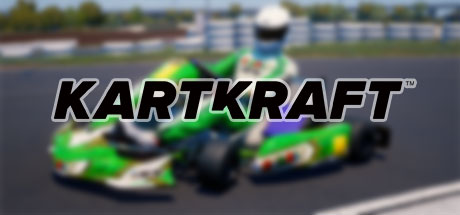 ShakeIt rewrite
Probably one of the most difficult rework ever made on SimHub, this rewrite took 8 months of hard labour to offer the best force feedback engine possible.
Covering lot of possible hardware : bass shakers, vibration motors, fans, wind with curvature, Forcefeel pad, Gametrix pad, Fanatec pedals, this new engine offers lot of flexibility when managing effects. 
You now have access to a profile manager, automatic effects calibration, and lot of new things intended to improve your experience
A more flexible effects profile management : Add or remove effects, duplicate, copy, visualize …
From the most basic setup to the craziest, you have the full freedom for your bass shakers, butt kickers or tactile feedback hardware :
Control each device separately, with full control over channels allocation :
Other changes
Russian translation added by our friend Nicolay Romanov
Some special characters were not appearing correctly in Iracing
Improved lot of details about formula engine
Added AC automatic setup
Lot of small fixes around
6.7.8
– Raceroom "march update" compatibility
– Updated all the nextion templates from Butonz pack to use the new editor format.

As a reminder the next major version of Simhub featuring the new shakeit version is under testing in Simhub discord (#shake-it-announcements channel) : https://discord.gg/nBBMuX7 featuring
– Shake It Effects auto-calibration
– Shake It Profile manager
– Curving wind for fans
– Easier forcefeel management
– Easier gametrix and jetpad management
– And a bunch of new cool features 
6.7.7
A short pit-stop for a maintenance update :
– Some fonts like segoe ui were showing in bold on web since last release
– Found a huge bottleneck on dash list slowing down (if not freezing) when opening a dash on web or desktop.
– Various additional optimizations.
6.7.6 – Forza Horizon 4
It looks like some editors finally heard that telemetry was a requirement nowadays, and so …A little update for the forza Horizon 4 compatibility !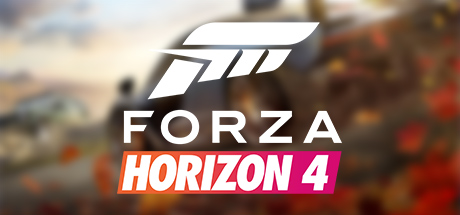 Whats New ?
– Forza Horizon 4 Support
– Gametrix support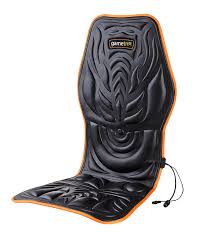 – New replay format with seek feature and attached screenshots :




– Added a button in the dash menu to get overlay and dash address for direct use in OBS browser :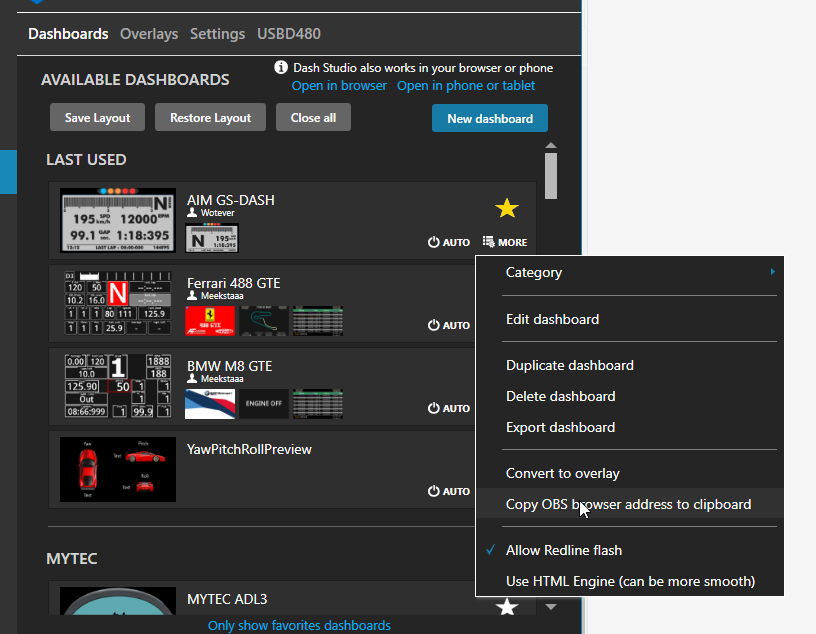 – Fixed case issue in codemasters XML automatic configuration
– Improved ShakeIt wheel slip effect on some RF2 mods not giving slip info (Endurance pack for instance)
– Improved web access font detection
– Dash studio won't save anymore windows standard fonts
– Added Forza game startup from launcher (thanks to windows store for making windows store app so hard to launch externally !)
– Changed car settings overrides having performance issues when having a long car list
– Lot of other small changes !